I spent the first weekend of December in the diverse Canadian city of Toronto.
Toronto is in the Canadian providence of Ontario, and is also quite close to the USA border. Due to the proximity to the USA, I flew to Buffalo, NY (for $20/leg) from Orlando and took Megabus from the Buffalo airport to downtown Toronto.
If you've never taken a bus across an international border… it's interesting to say the least. I found that generally immigration officials are far more cautious about bus travelers than virtually any other way of entry. I've always joked around about how smooth it is to enter Canada, with the friendly stereotype and all they also have worldwide. I did not have that experience at all when I was being interviewed prior to entry. After the customs official figured out that I used a credit card to purchase my flights though, he instantly just approved me to enter. I overheard several other passengers being grilled about their bank account balances, so "credit card" seems to be the magic answer.
Total from Orlando -> Toronto came out to $48USD total, which is a steal in my opinion.
I stayed the night in the hostel HI Toronto. It had a really good location right by the financial district, and was quite affordable. It is a hostel though, so that comes with it's own downsides, but I generally don't mind staying in hostels, even if I have to be in a dorm room. After I dropped off my bags at my hostel, it was already 11PM. I decided to just walk on over to Tim Horton's for dinner, taking a bit of a scenic route.
I woke up bright and early the next morning, to try and cram in as many "tourist" things I could that day. First was the famous CN Tower. My understanding is that CN Tower is the tallest tower in North America, and it's quite impressive.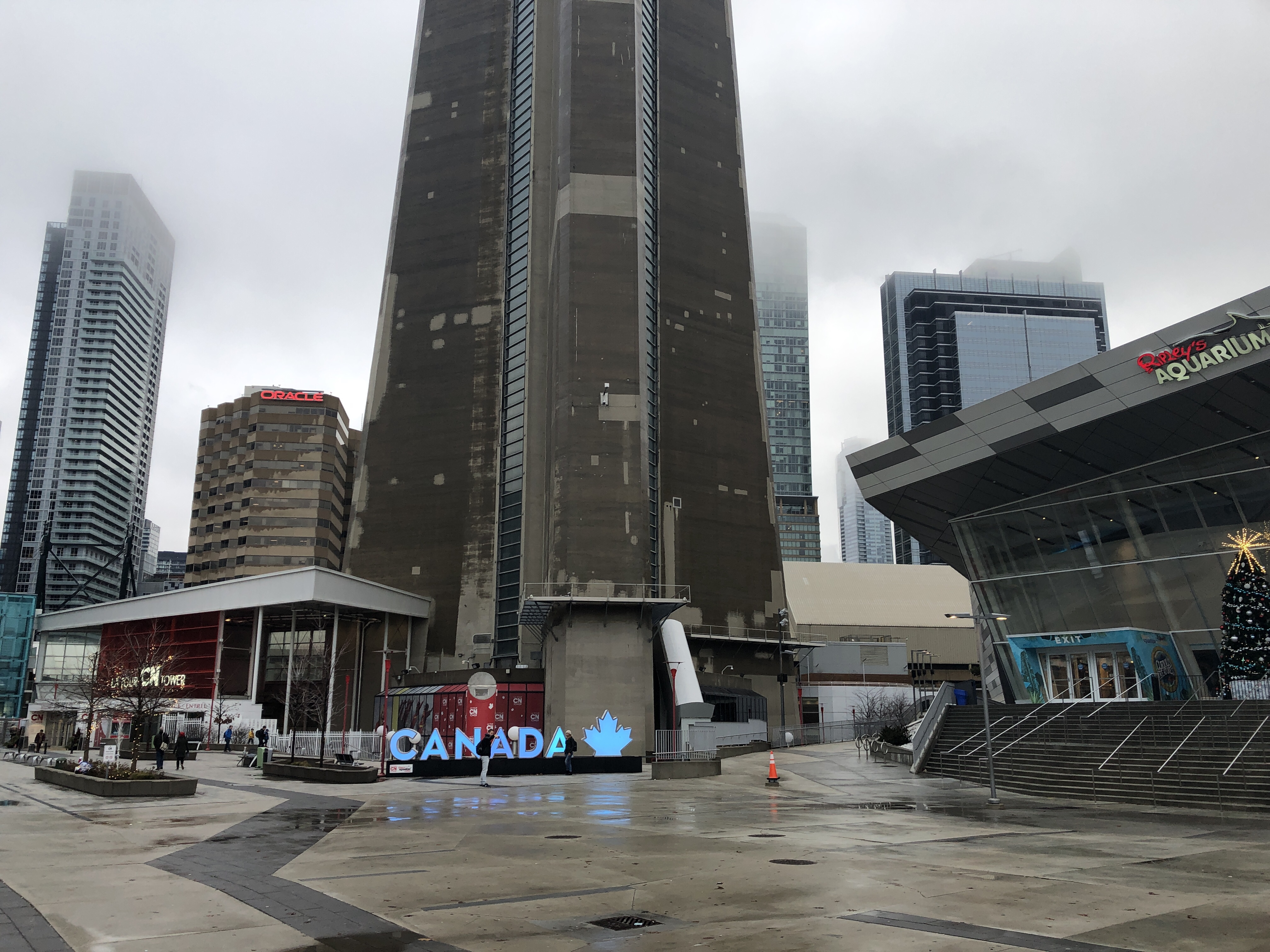 I bought a ticket to go up to the top, and it was breathtaking. When I first stepped out of the elevator, it honestly felt like I was in a sci-fi movie. They warned me many times along the way saying that visibility was very low, but even with the bad visibility it was well worth the ticket price to go up.
After I descended from CN Tower, I walked around the city for a bit to kill some time before my next bus, this one to Niagara Falls, Ontario.
I found some really cool things, such as the immersive Toronto Chinatown neighborhood, a film set for a Starbucks commercial, and even a pop-up Google Pixel 3 store where I tried to win a free Google Pixel 3.
A couple hours later, I was in Niagara Falls, ON. The falls were beautiful, but the surrounding area, unfortunately, was quite built up in the typical gaudy tourist fashion. Don't get me wrong, I don't hate "tourist trap" areas, as it's somewhat nostalgic, but it is weird when it's somewhere with such natural beauty. Also, I didn't take really any pictures of the falls themselves, because, it's really hard. You need a really short shutter speed, or else it's just a big blur.
In the foreground you can see the big Canadian Niagara casino, behind is the falls, and in the background is a large American Niagara casino.
That pretty much concluded my quick weekend getaway to Ontario, Canada! It was a great place with nice people, and I hope to return soon to do what I know I missed out on!